2016-2017 Word of the Week
February 14th, 2017
Our word of the week this week is faith. This is a golden word, suggested by U.S. Freestyle Ski Team moguls skier and SSWSC alum Ryan Dyer. Ryan says, "Faith means complete trust or confidence in someone or something. If you are trying to reach the highest level of anything, you must have faith. Faith in yourself, the people around you, and your goals. At some point, you will experience failure, injury, or tough times along the way, and faith is what is going to get you through it. Your belief in yourself must be stronger than anything trying to hold you back." Ryan did a nice video segment with us about his word that you can watch here.


February 7th, 2017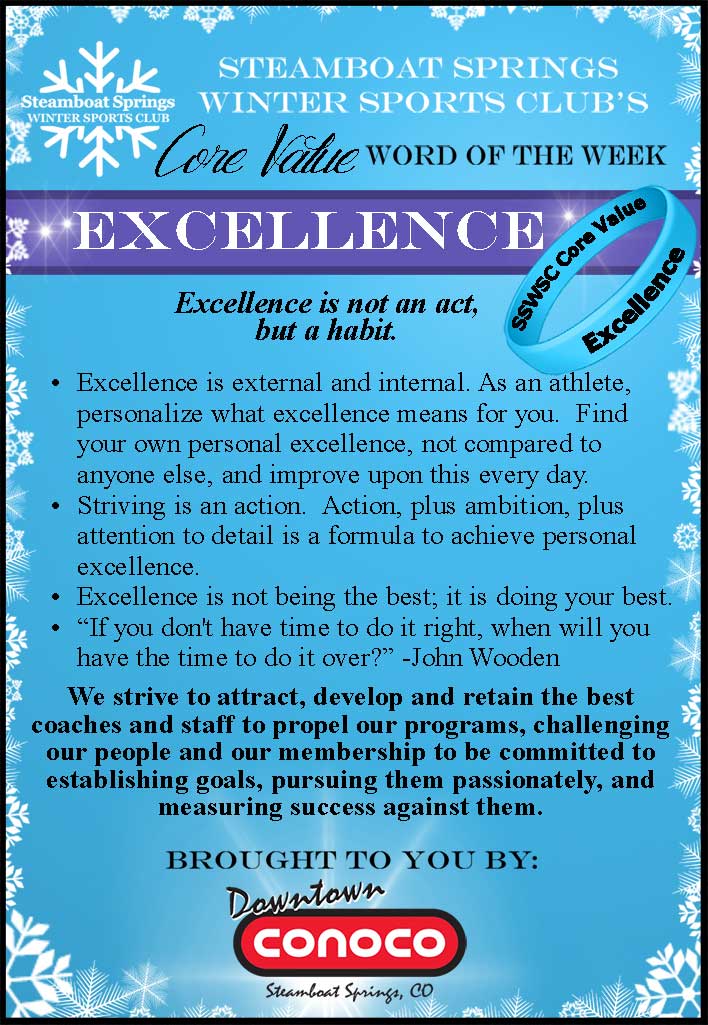 February 3rd, 2017
This week's #WordoftheWeek, presented by Downtown Conoco, is Failure. It's a golden word, offered by U.S. Moguls Team member Jaelin Kauf. Jaelin was named the FIS World Cup Rookie of the Year last season, an incredible honor, particularly since she was skiing the first half of the season as a SSWSC High Performance Team member and wasn't on the national team yet. Her understanding of failure, and its place in the make-up of a champion, is mature beyond her years. Jaelin shared this:
"Failure might not be the first word that comes to mind when you think of a champion. It is associated with so many detrimental words, but what is success without failure? I think you have to risk failure to test your vision. Failure is not a negative, it pushes you, molds you, and teaches you. Without it you cannot know true success."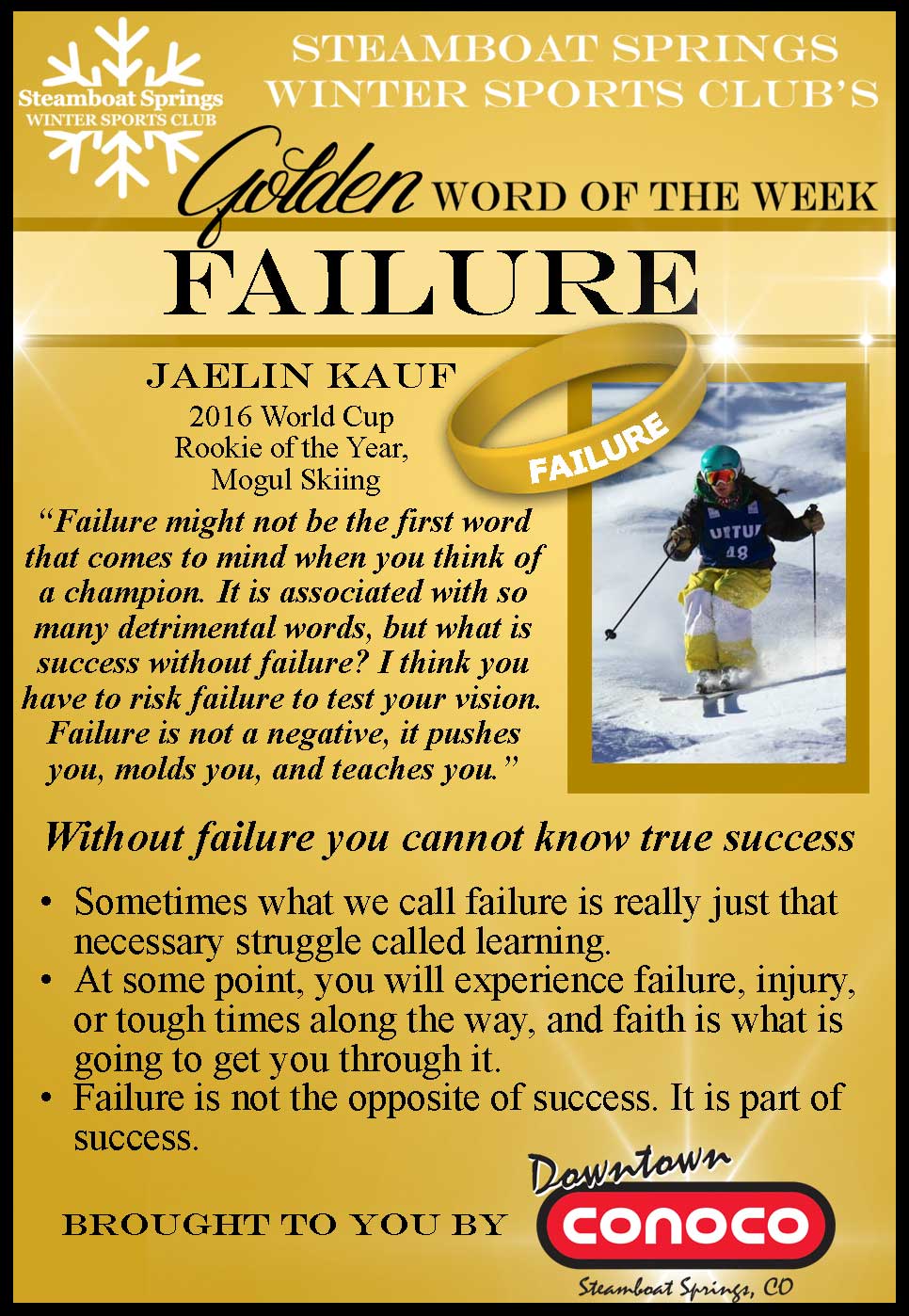 January 24th, 2017

This week's Word of the Week is Adrenaline!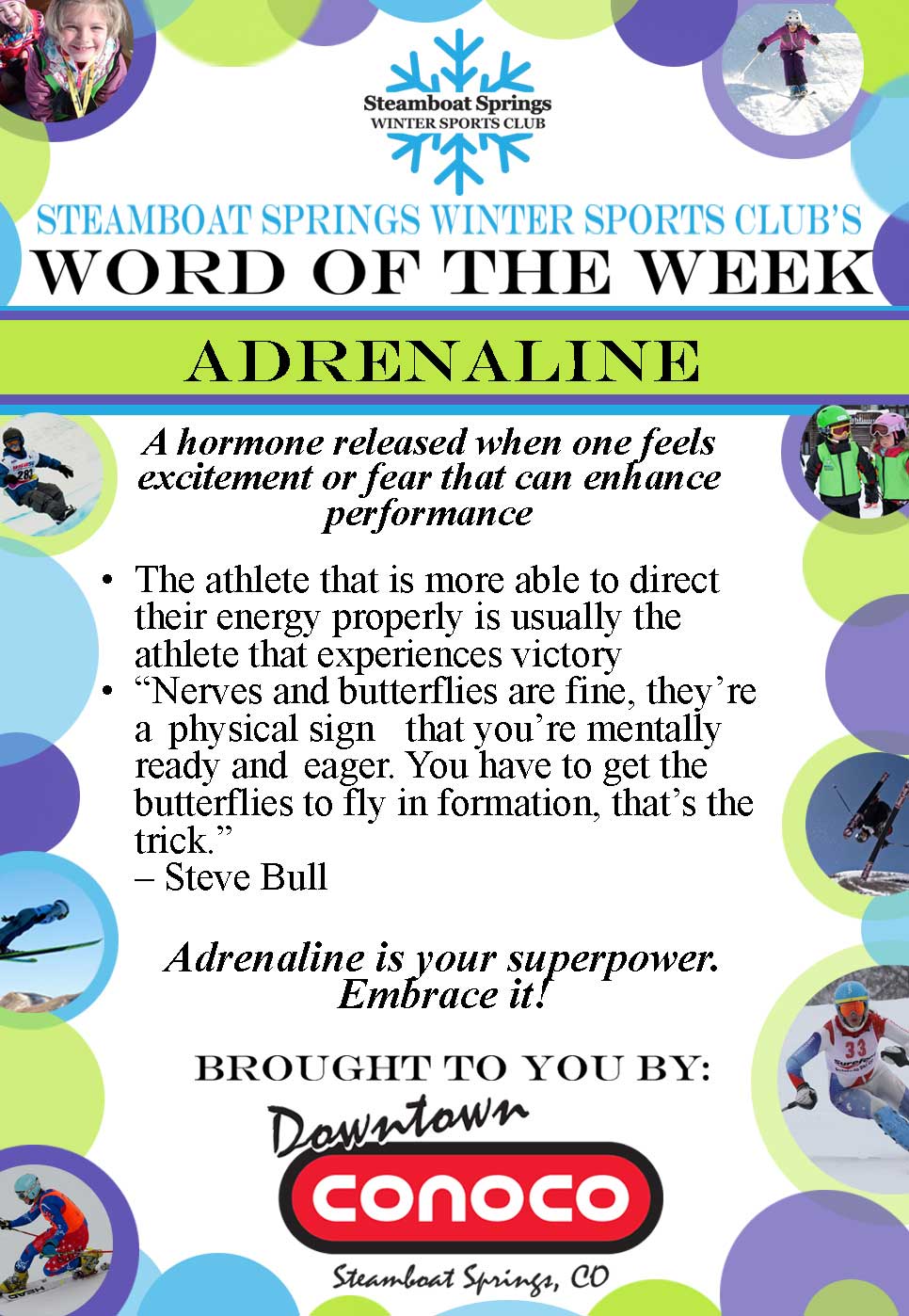 January 17, 2017
This week's #WordoftheWeek comes from Olympic Nordic Combined athlete, World Championships medalist, and SSWSC alum Bryan Fletcher – perseverance. Bryan thought back to a quote that his coach on the national team shared with him: "Big trees grow slowly". Bryan talked about how we all want results overnight, but remembering this quote helps him visualize that every day contributes to the overall picture. View his video here.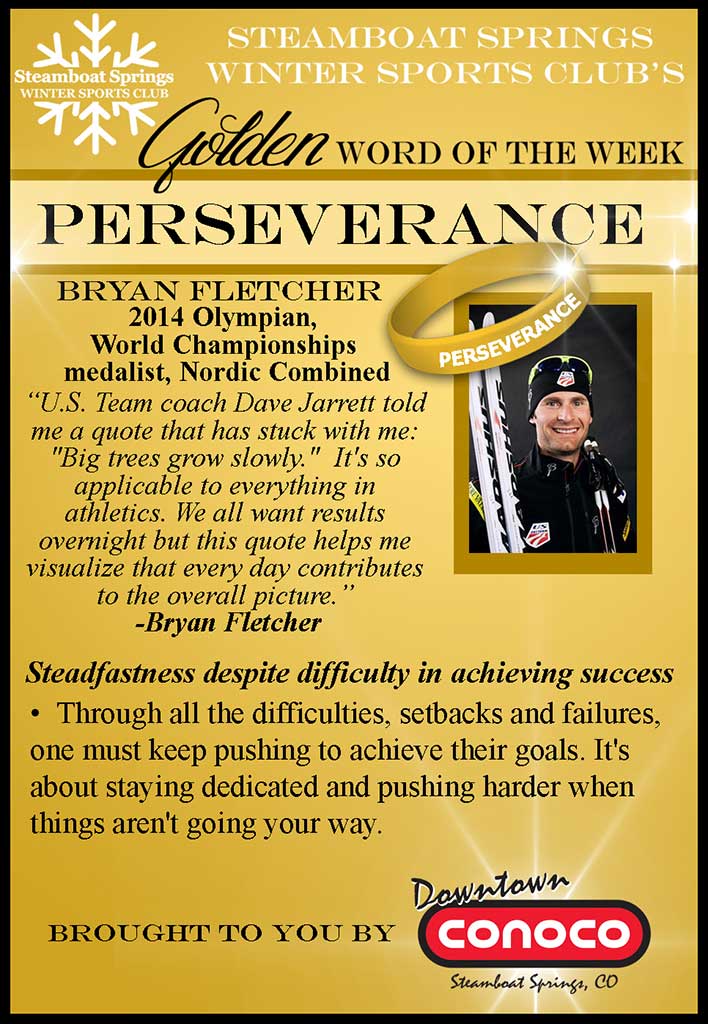 January 13th, 2017
This week's #WordoftheWeek is "Truth", presented by Downtown Conoco! Champions practice reality acceptance. This means accepting the truth of a situation and then dealing with that truth. To realize one's full potential, we must see and accept what is real. Only upon seeing and embracing one's personal strengths and weaknesses can an effective plan be implemented.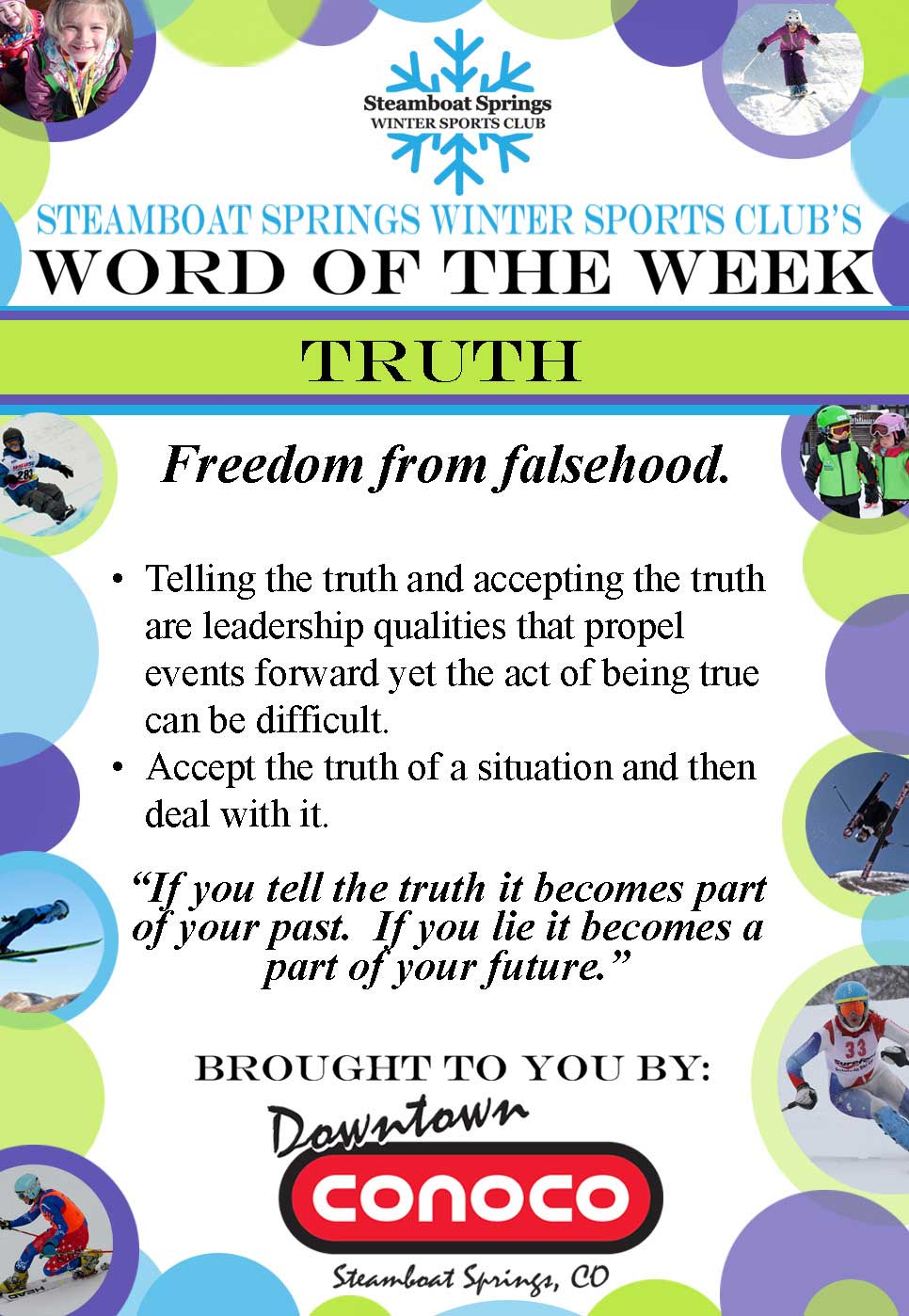 January 6th, 2017
Happy New Year! Kicking off 2017 we have a golden word from Olympic alpine snowboarder Justin Reiter - resilience. A great word for Justin, as he has been fighting not only to be at the top of his sport, but for the future of his sport. Justin filled us with good points to share with this word, featured on the poster (attached) and in a good, short video clip here.
Click the link below to view Justin's word, "resilience". Kids often perceive struggle as a sign they are weak or unskilled, when in fact, struggle is an important key to accelerated learning!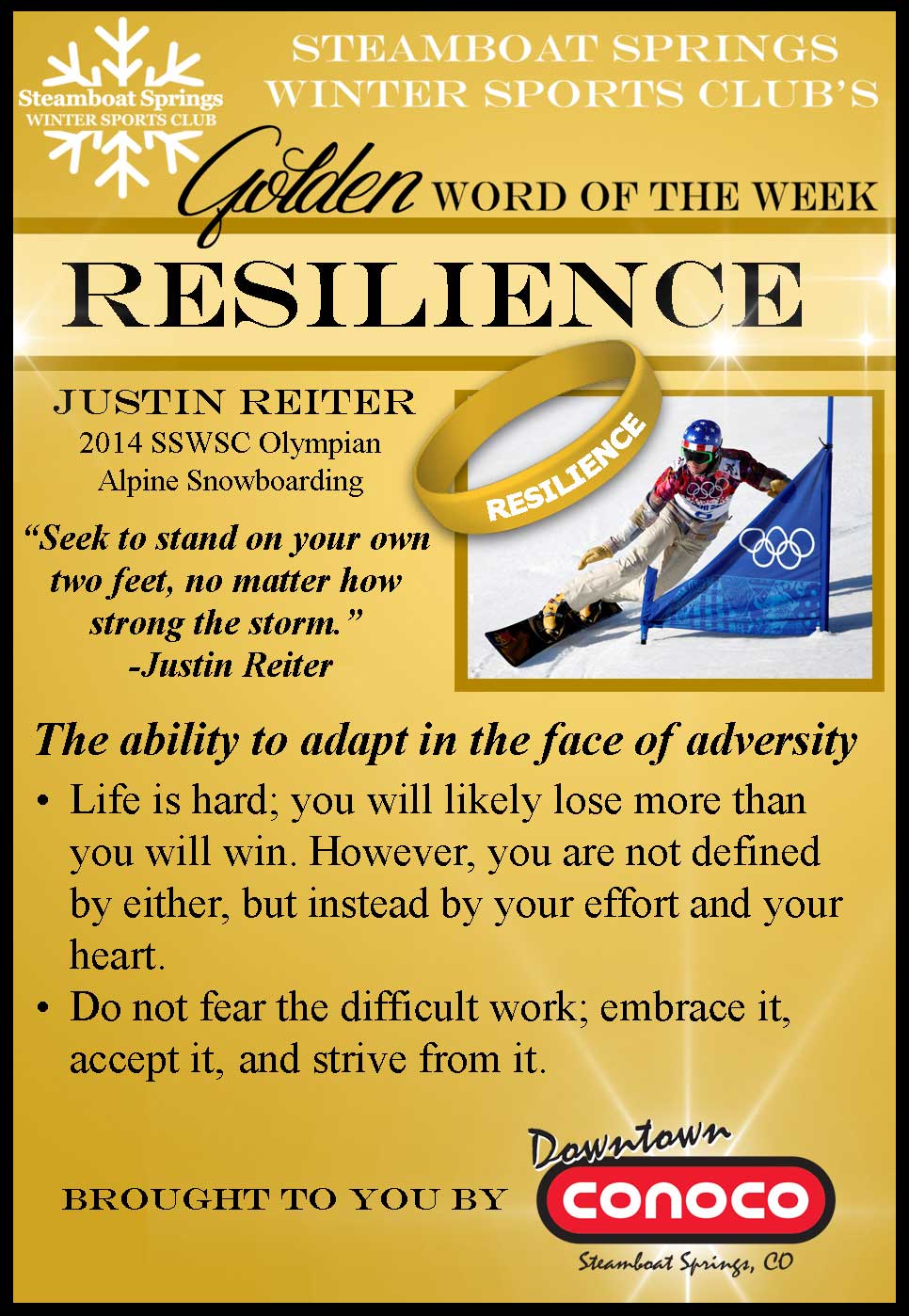 December 27th, 2016
This week's #WordOfTheWeek is "Respect". Respect is one of the SSWSC's core values. Within the club, it is essential that we treat each other and all with whom we interact with care and mutual respect, recognizing and embracing diversity and individuality.Our coaches seek to earn respect from our athletes and their parents, and our athletes seek to earn respect from their coaches, parents, and fellow competitors.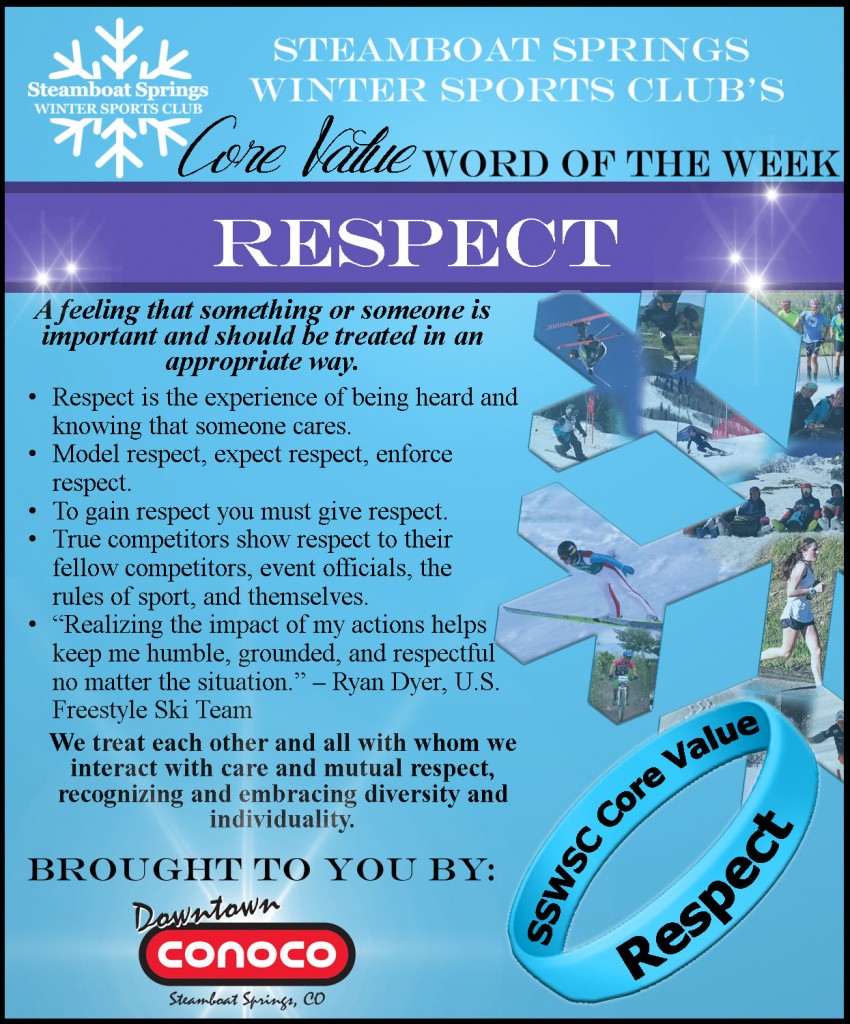 December 13th, 2016: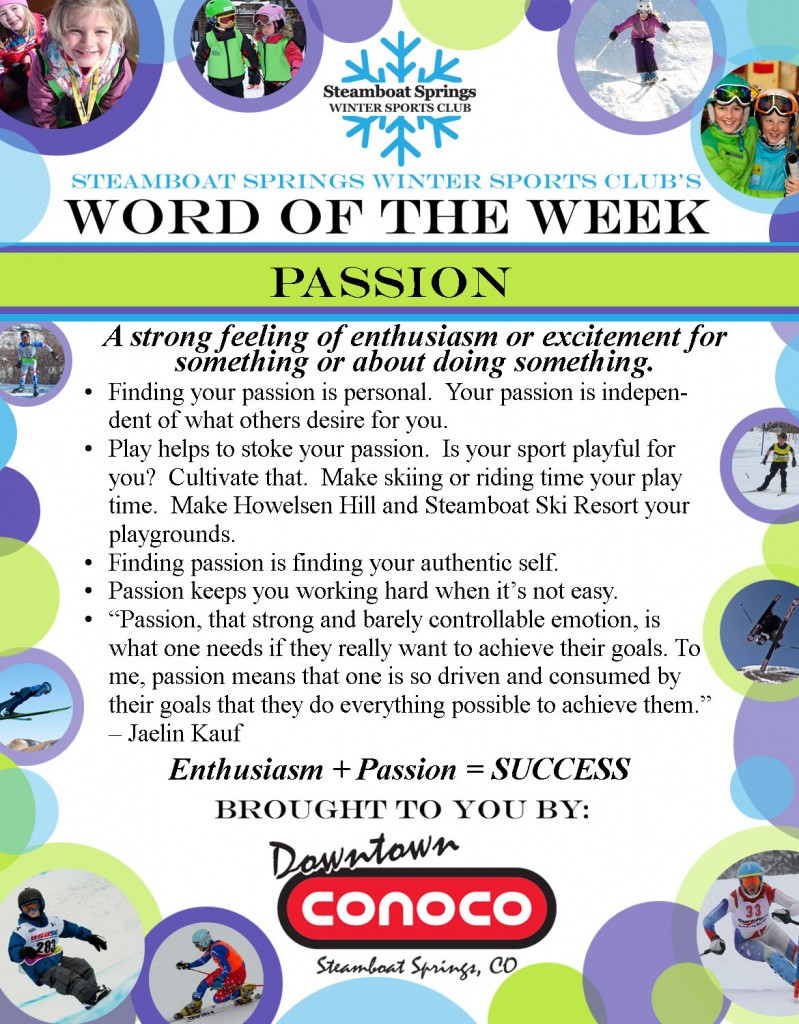 December 6th, 2016: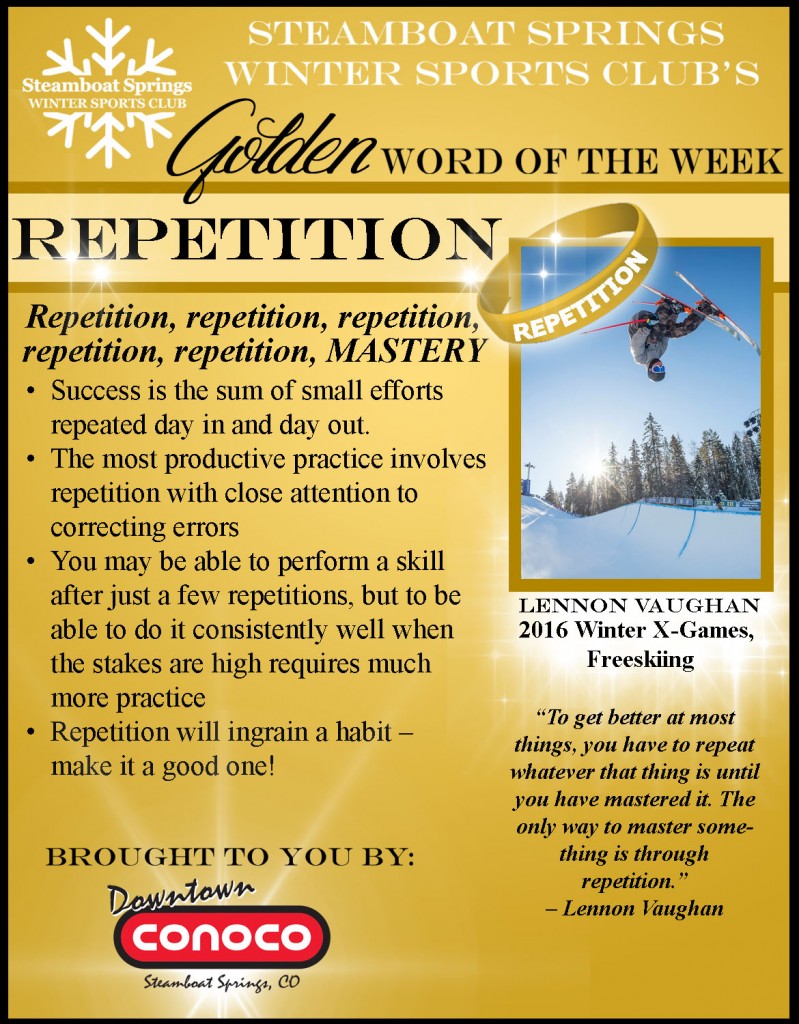 November 22nd:
Just in time for Thanksgiving, our word of the week for the next two weeks is gratitude. To become a champion on or off the hill takes help and support from many, many people, and those that show gratitude for the many good things they have around them as they pursue their goals in skiing and riding are those who get the most in return.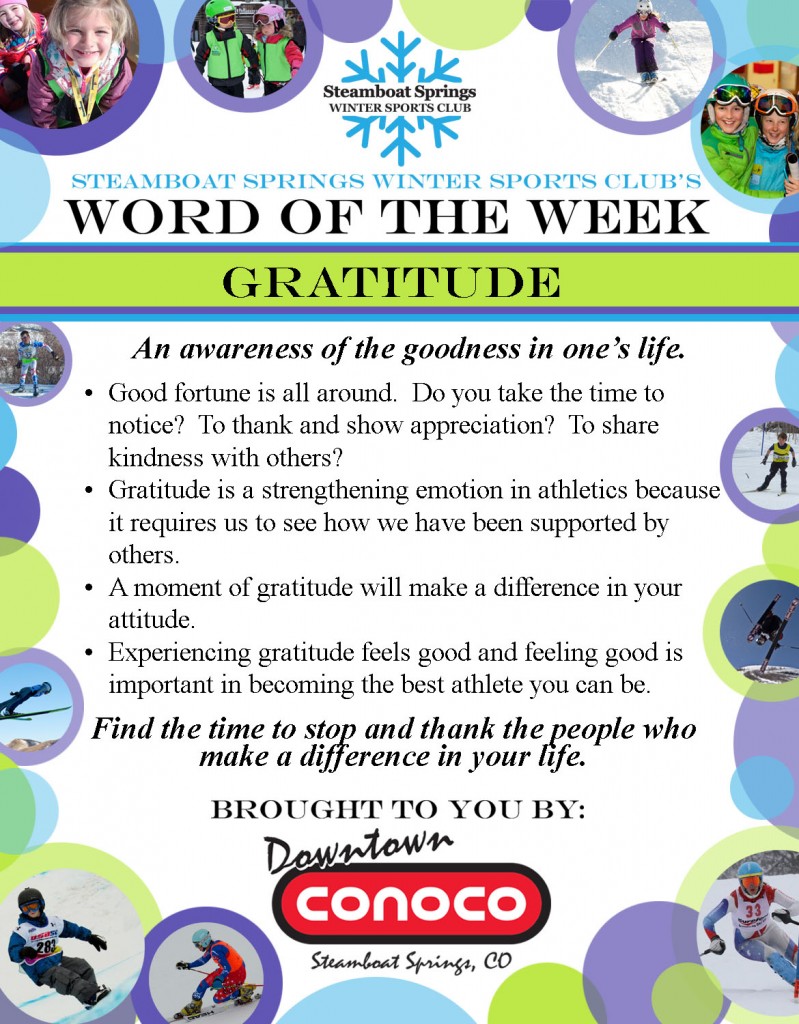 November 8th: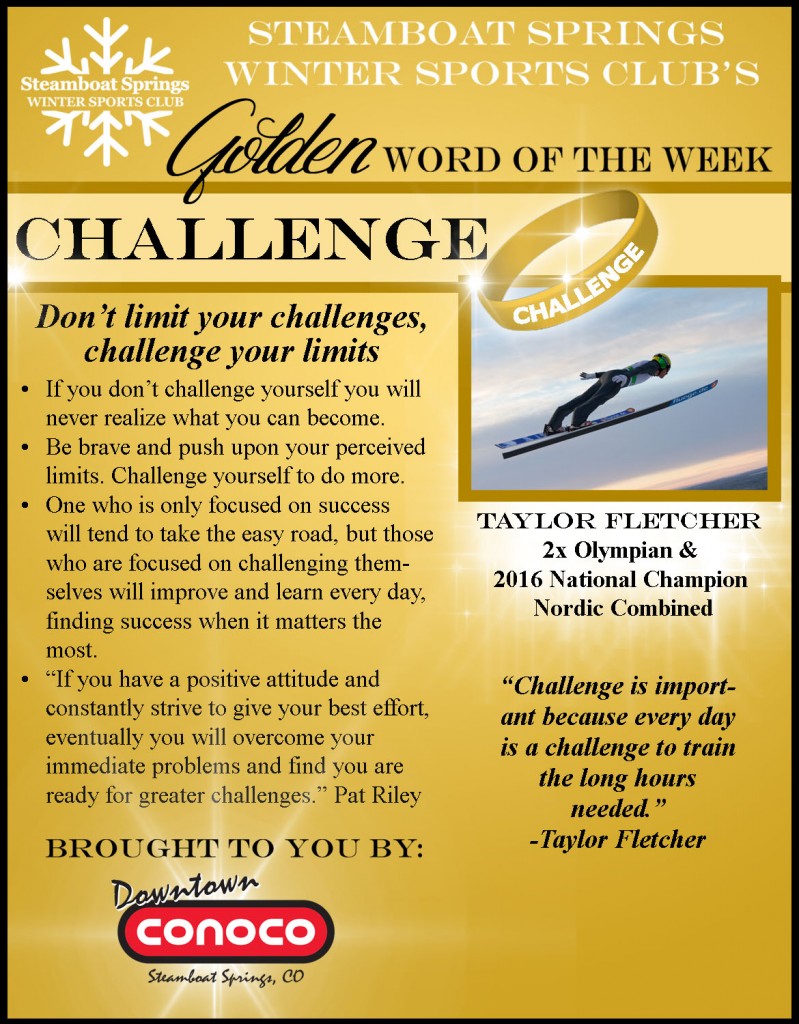 October 25th
This week we are excited to roll out our first "golden" word of the week, featuring a word chosen by one of our top alumni athletes!
This week's word is OWNERSHIP, chosen by SSWSC cross country alumnus Mary O'Connell. Mary is a great example of a champion on and off the mountain, having just graduated after four years of study and skiing at Dartmouth College. She is continuing the pursuit of excellence now with a post-graduate cross country skiing program in Craftsbury, VT. At Dartmouth, she was a NCAA All-American and earned an award called the Class of 1950 award, presented to the varsity student-athlete who has demonstrated the most extraordinary commitment to community service. Quite an honor!
This week's ad features how Mary describes ownership: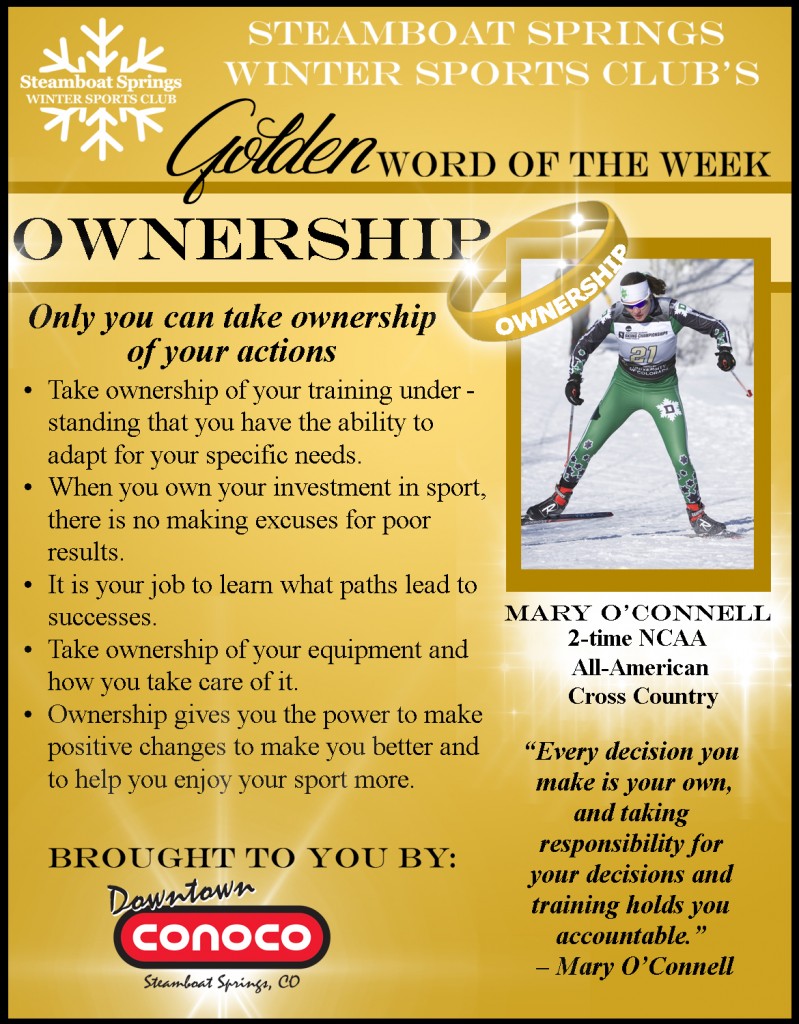 October 11th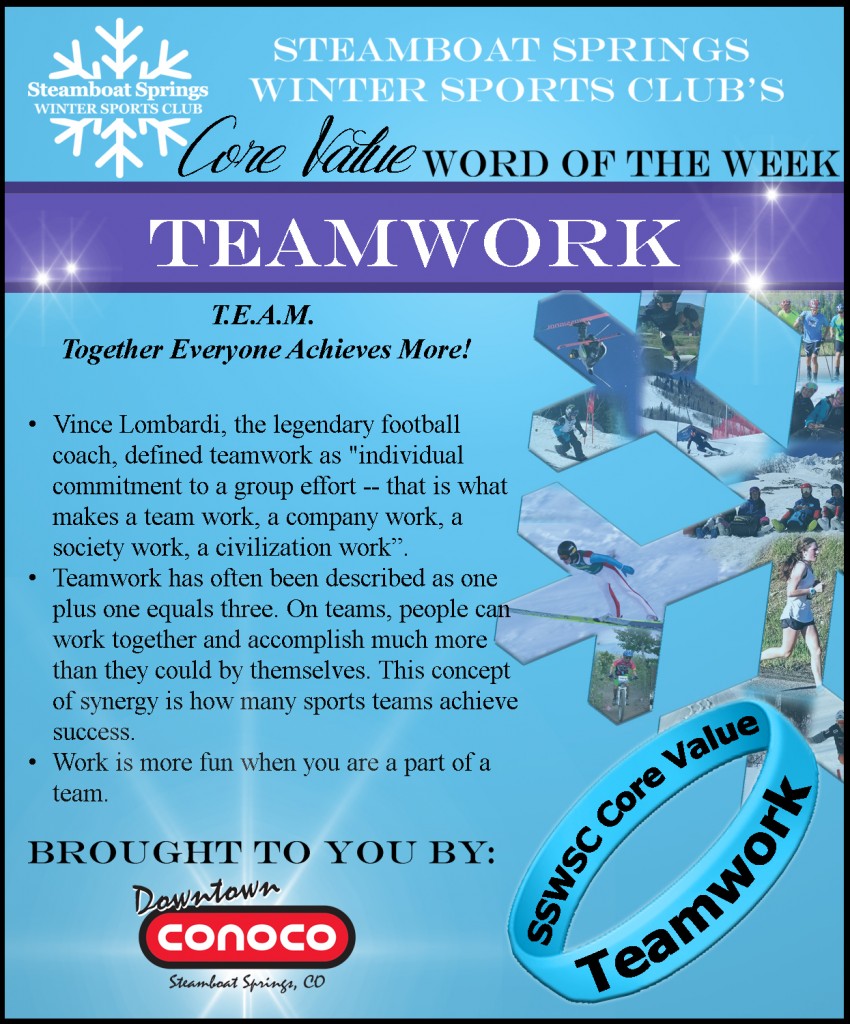 2015-2016 Word of the Week
February 23th, 2016: Competitor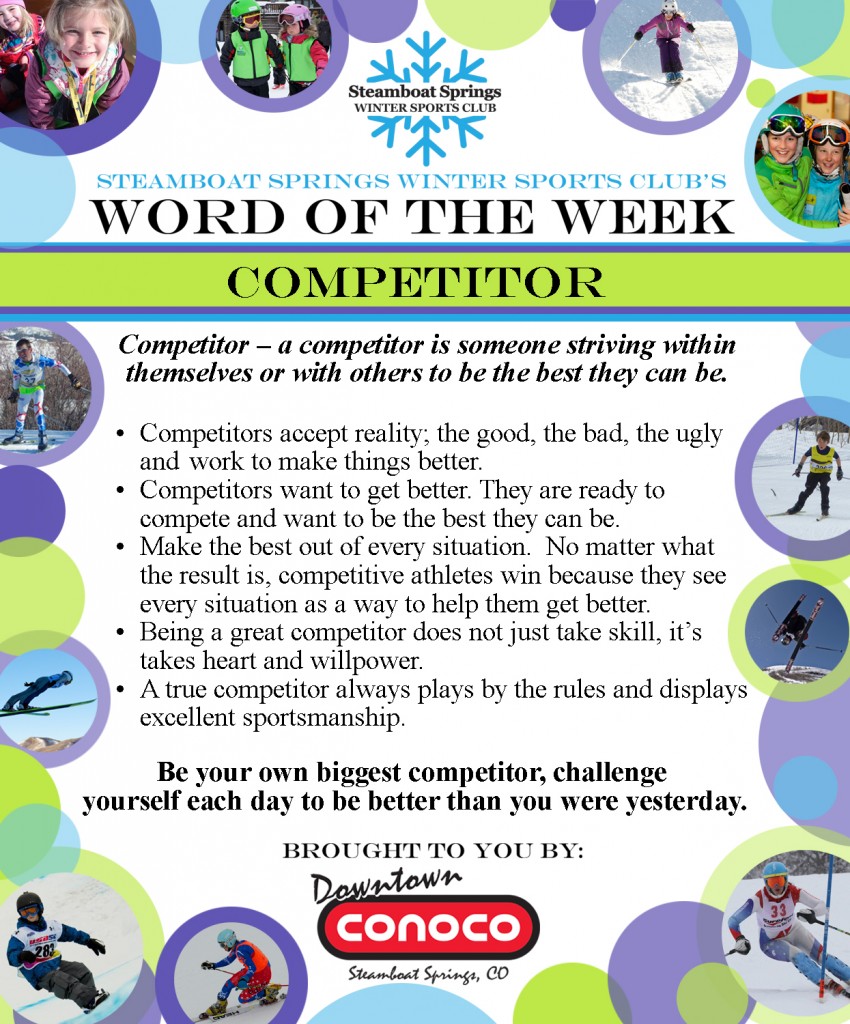 February 16th, 2016: Perseverance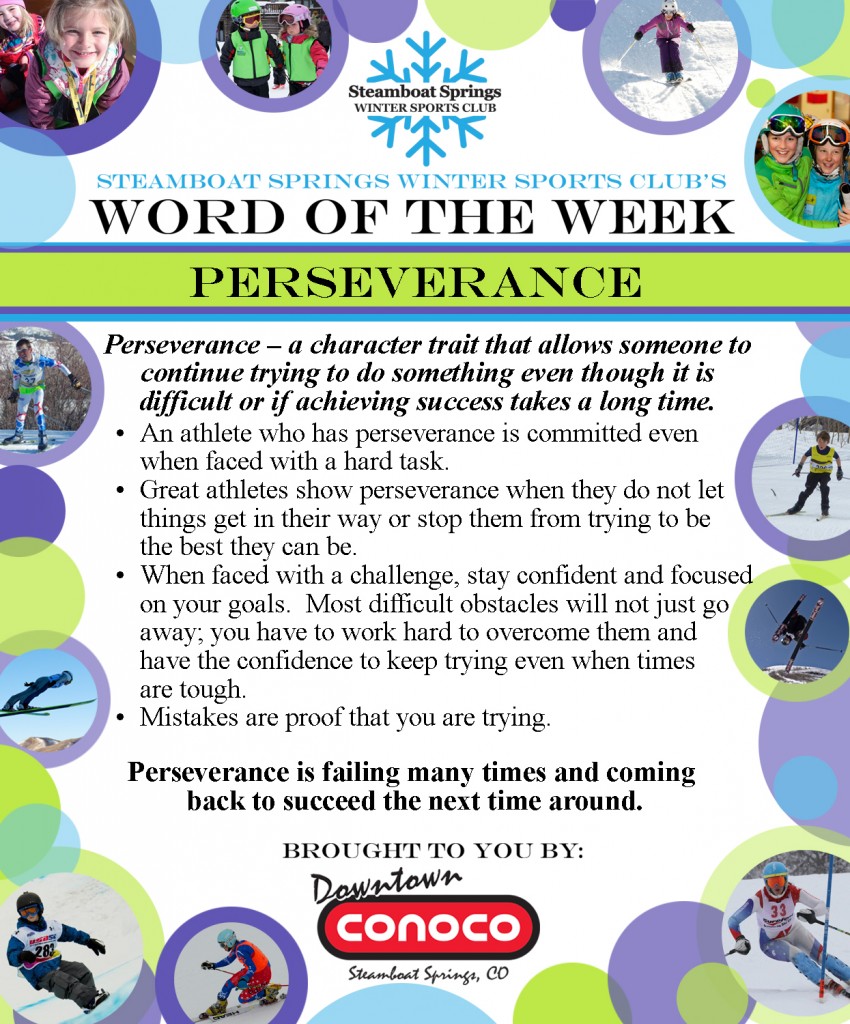 February 9th, 2016: Composure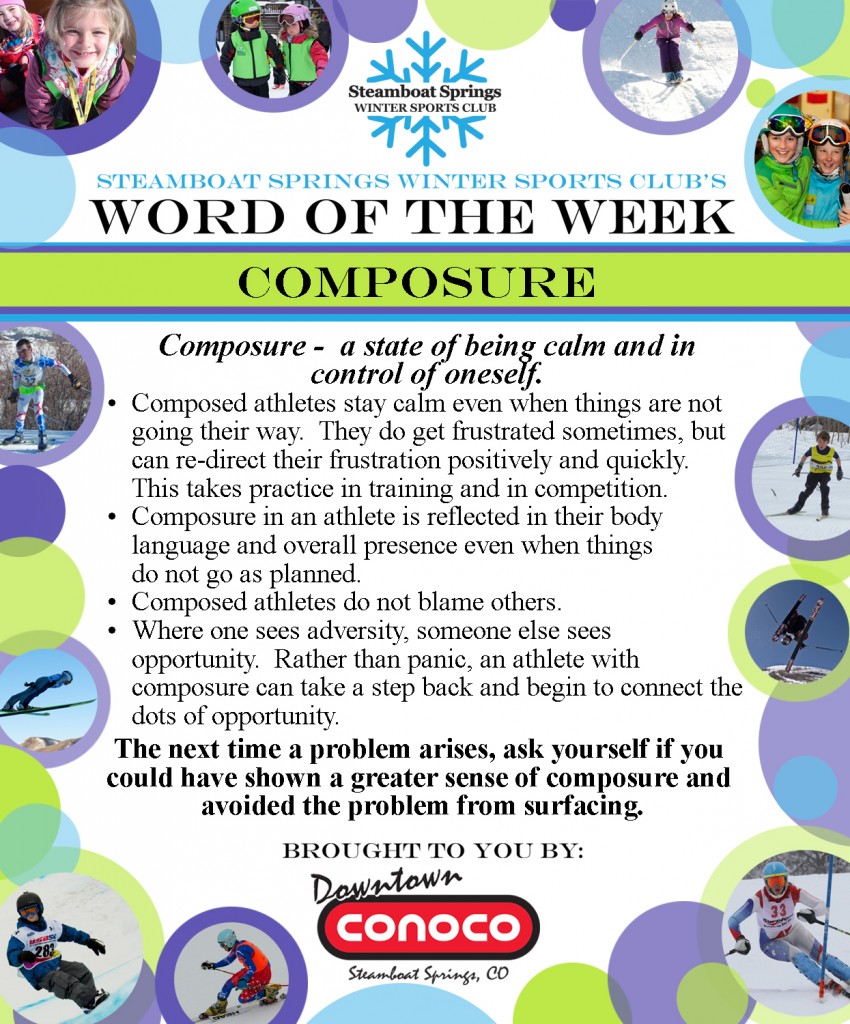 January 29th, 2016: Confidence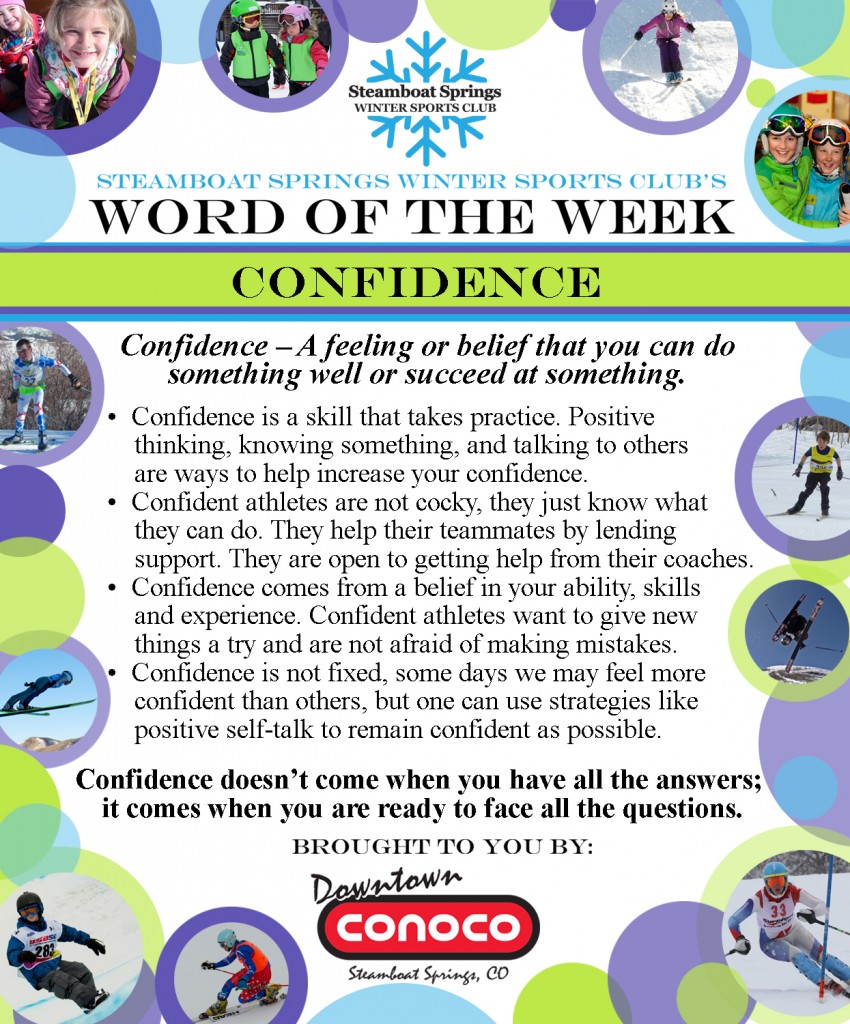 January 19th, Word of the Week: Respect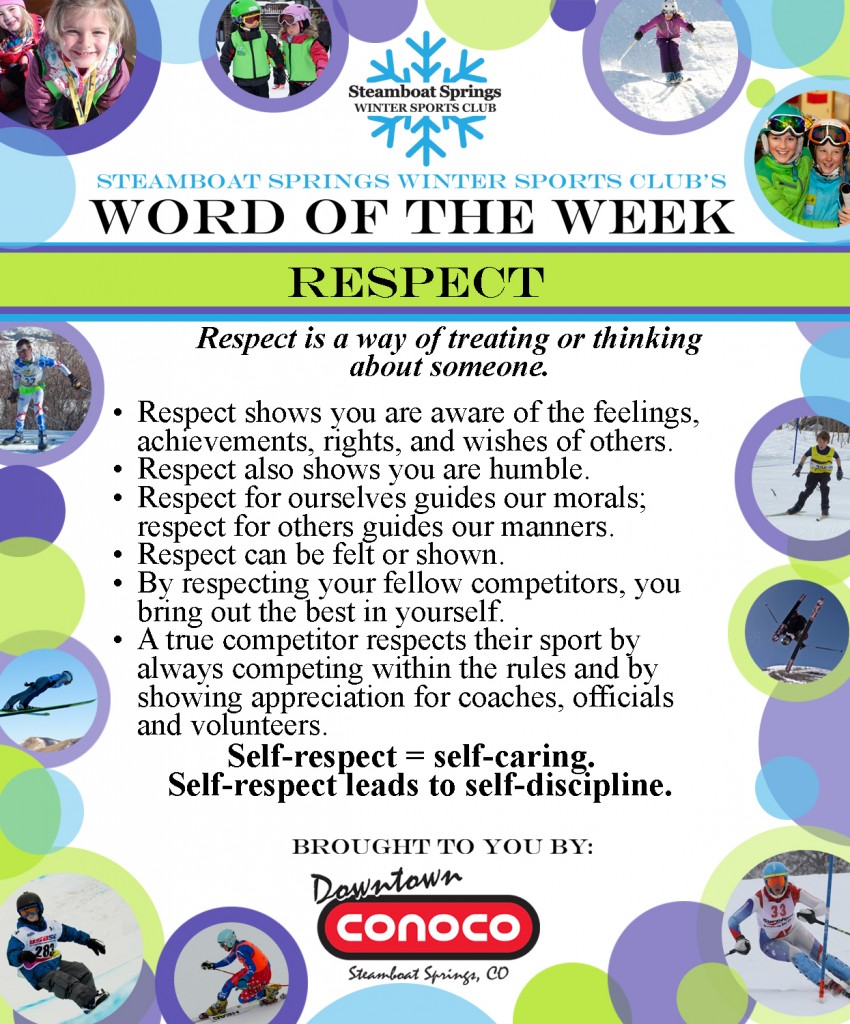 January 12, Word of the Week: Skill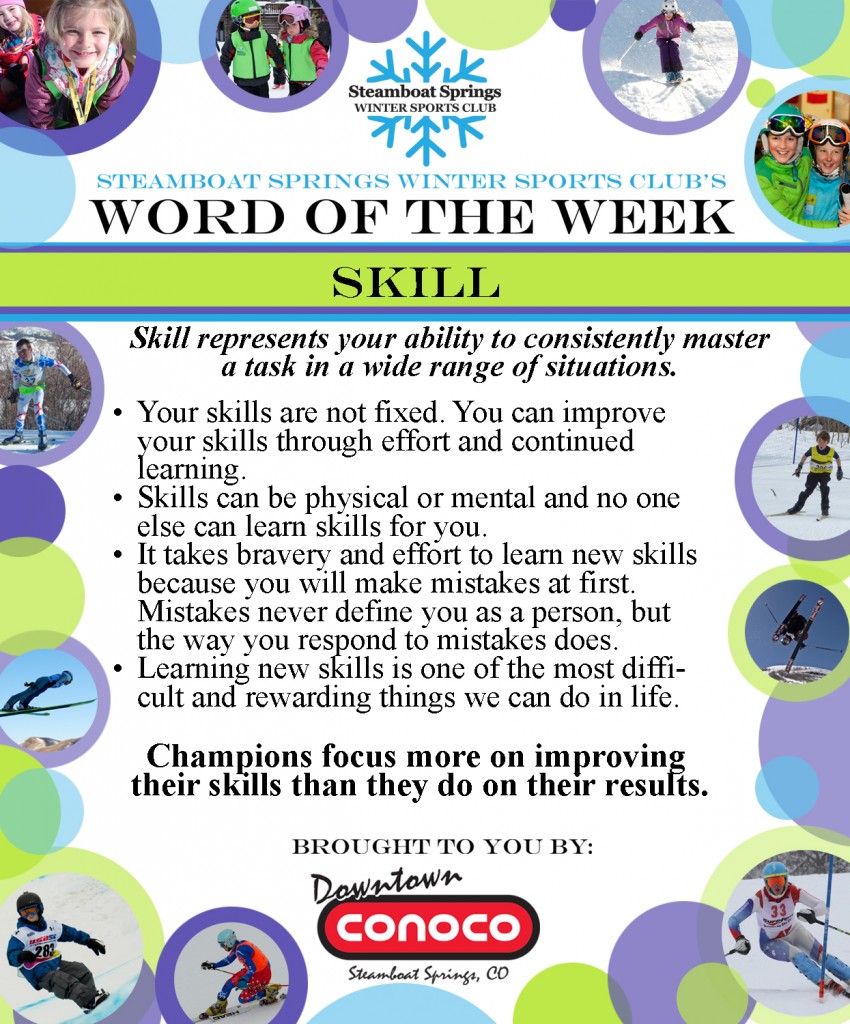 January 5th, Word of the Week: Friendship
Activities:
The top three reasons kids take part in sports are to have fun, to be with friends and to improve their skills. Spend time this week building social bonds.
• Write down positive comments about your fellow athletes and share them.
• Ride the lift with someone you don't usually ride with, and learn 3 new things about them.
• Do partner exercises and activities like synchronized skiing.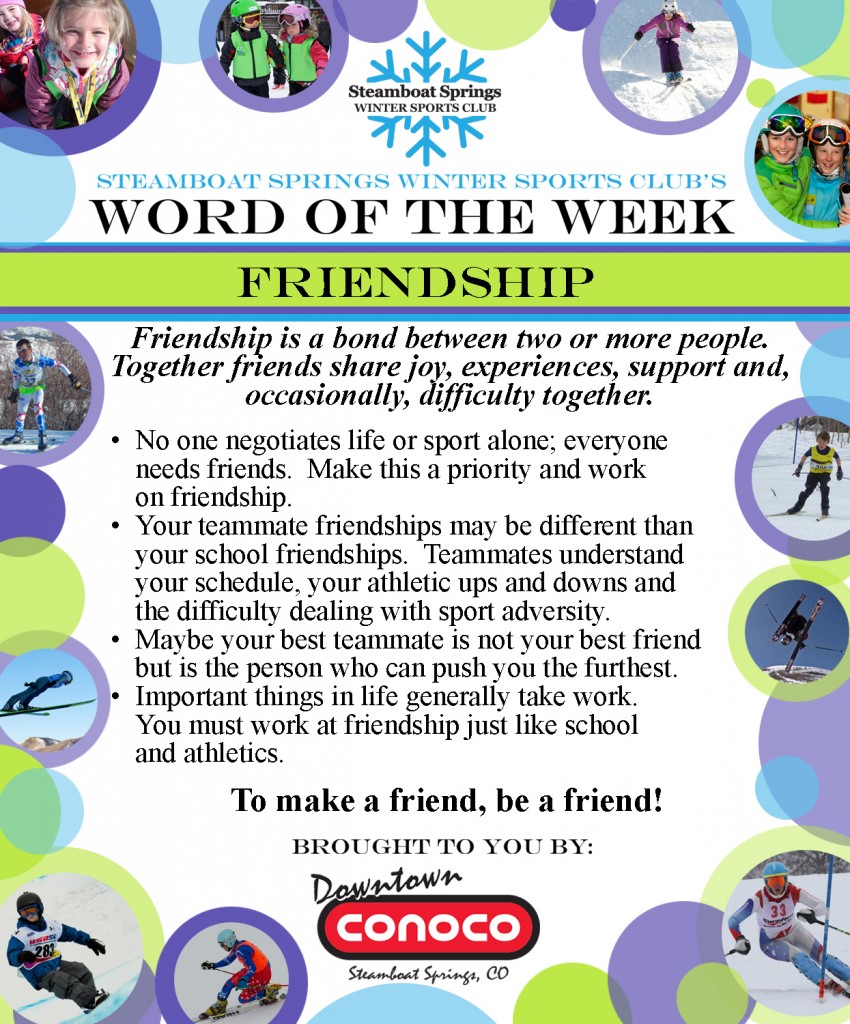 December 29th, Word of the Week: Curiosity
Are you inspired to learn every day?
What is your willingness to invest your time and energy into learning about your sport and yourself?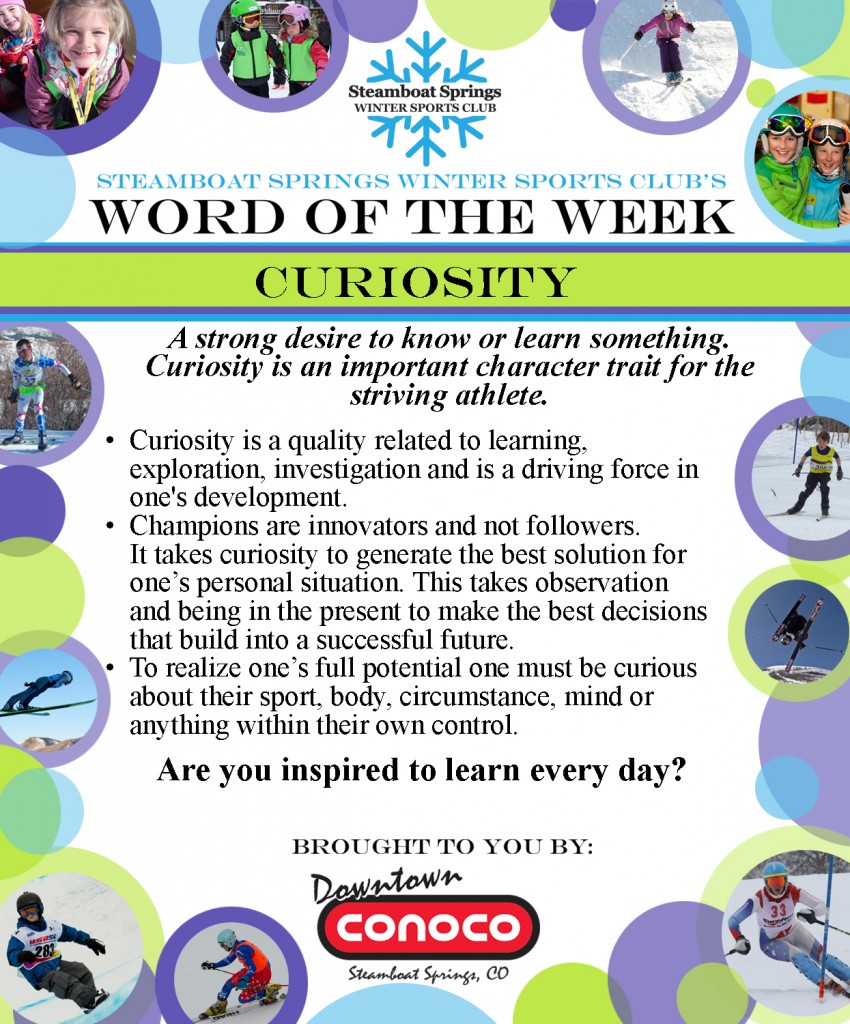 December 19th, Word of the Week: Mindset
Activities/questions:
• Are you afraid of mistakes?
• When you face a challenge and fail, are you motivated to improve to meet the challenge the next time, or does it make you question your abilities and want to avoid similar challenges in the future?
• When you are faced with a task you cannot complete, rather than saying "I can't do that", say "I can't do that yet".
• Think of a time when you successfully did something that you didn't think you could do. In that situation, what was the most important reason you succeeded?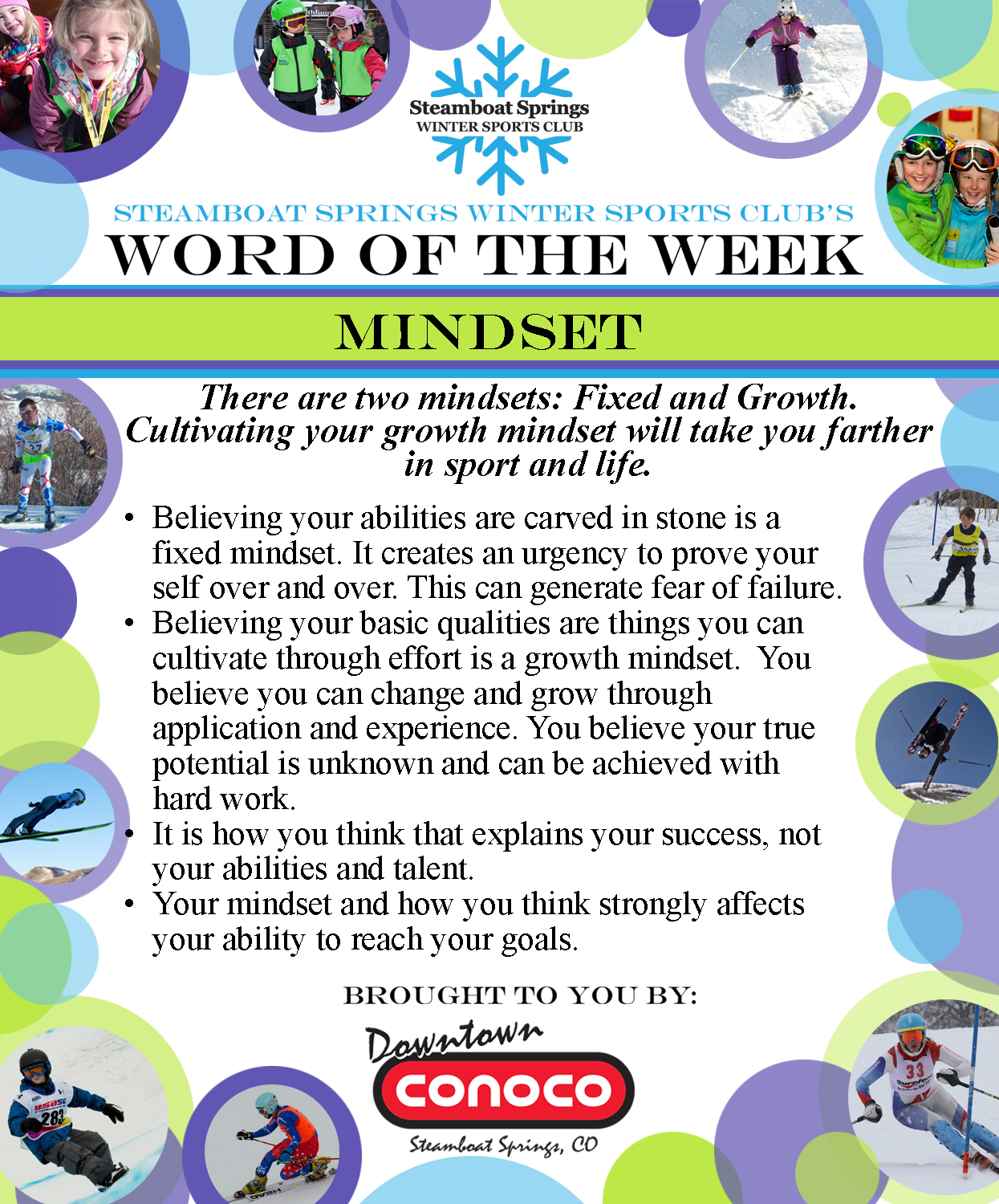 December 12th, Word of the Week: Character
Example of character traits:
Positive, grumpy, polite, sneaky, honest, curious, active, demanding, scared, bold, helpful
Activities/questions:
• Invent a super hero what character traits would you choose to describe your hero?
• Describe your ski groups character.
• What is a character trait that you would like to purposefully cultivate in who you are?
• If you grew up in the deep jungle what character traits do you think you would need for survival?
• What are important character traits in being an athlete?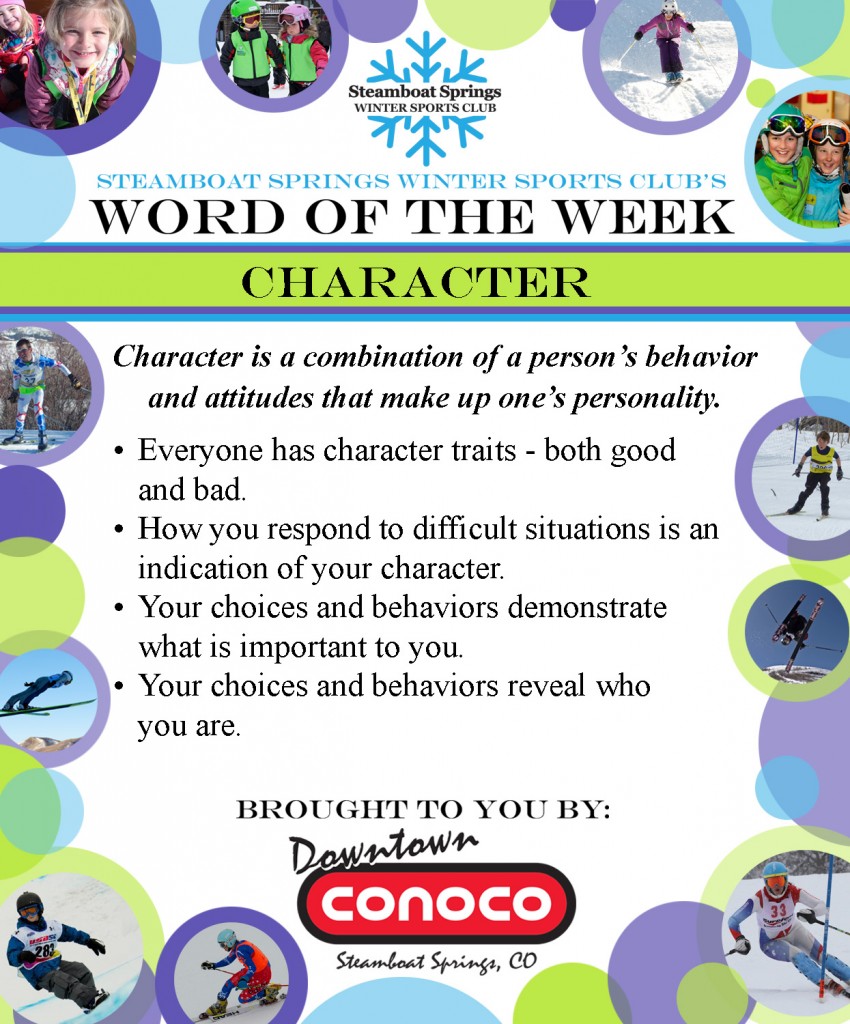 December 5th, Word of the Week: Optimism
Activity/questions:
• Who is the most optimistic person you know?
• Can you anticipate a difficult situation this season that may pose a challenge, yet your optimistic view on the matter can generate a constructive outcome?